Caterham Academy – Third grid added for 2009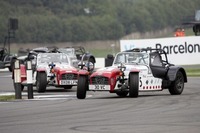 For the first time in its history, Caterham Cars has been forced to introduce a third grid for the 2009 Academy race series.
The novice-based championship has been gently introducing budding Lewis Hamiltons into the world of motorsport since 1995. Its simple, low-cost entry into racing means the traditional 56-strong Academy grid is always a sell-out before the end of the preceeding summer.
Yet, despite the current 'credit crunch', demand for a place in the 2009 series has been so strong that Caterham has been forced into creating 28 extra places – 8 of which have already been taken.
Starting from £17,995, the race package includes everything needed to compete in a full season of thrilling Seven racing. The dedicated Caterham Motorsport team organises every aspect, leaving only the enjoyment of competition for the competitors.
The Caterham Academy uses the popular 1.6 Ford-engined Roadsport model; a car punching out an impressive 227bhp-per-tonne and capable of hitting 0-60mph in just 5.9 seconds. To ensure a fair and level playing field, every car features an identical specification and are regularly checked to guarantee so.
Continuously on hand for advice and support, the Caterham Motorsport team prepares every competitor; walking them through the process of passing their ARDS race licence test before a series of seminars and exclusive test days, which teach participants advanced driving skills and how to get the best from the car according to chassis set-up.
From April to October, Academy drivers are eased into racing with a series of timed Hillclimb and Sprint events before being pitched against each another on four circuit races, held at popular UK race tracks.
The road legal specification of the Caterham Academy car remains a strong draw for those seeking competitive racing whilst simultaneously experiencing the thrill of Seven ownership on the road, between events and when the season ends.
For those who get truly bitten by the racing bug, only slight modifications are needed to Academy cars to be eligible for the Roadsport B class - the next step in the established Caterham Motorsport ladder.
For more information visit caterham.co.uk