Weybridge students complete build of Caterham cars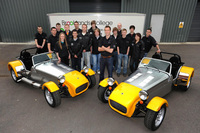 Motorsport Technology students at Brooklands College have built a pair of Caterham Seven sportscars as part of their coursework.
The 24 students, aged between 18 and 30, have spent the last six months building the iconic British sportscars in their high-spec engineering facility based in the grounds of the legendary Brooklands race circuit.
Caterham has had similar initiatives established within several schools around the UK for the last four years, helping to give students a 'real world' understanding of physics, science, maths, design, business and marketing skills.
Students receive the Sevens in component form and build the lightweight, open-topped cars from the ground up.
Jonathan Nicholls, Engineering CoVE Manager, who leads the initiative for the Caterham project at Brooklands College, explains: "Caterham has a long history of producing some of the fastest, lightweight sportscars at low cost and remains a great engineering company with its original principles still in place.
"To have the college students seeing through a project like this and getting to build the cars first-hand provides vast amounts of opportunity for all the students involved, both in gaining vital skills and valuable experience for the future."
The majority of students involved in the Caterham project have aims to work in the motorsport engineering industry.
Andy Noble, Sales & Marketing Director at Caterham Cars, said: "It's great to see the students get passionate about a subject, it really brings learning to life. And if we can help inspire some of the students to reach their potential, then that's an added bonus.
"Caterham has always been about experiencing the cars, not just looking at them, so I hope these young people, having touched and constructed the cars, will become lifelong fans of a brand that is already a petrolhead icon."