Turkey's newest marina boosts Istanbul's western suburbs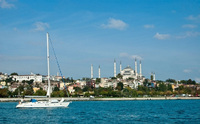 Istanbul's western suburbs are set to receive a further boost with the announcement of plans to build a new marina worth $16 million.
Dati Investment Holding, one of Turkey's leading development consortiums which also owns the high end Galleria shopping mall, the Crown Plaza and Istanbul's latest 5* hotel, the Sheraton Istanbul Ataköy Hotel, intends to build a new marina in the Ataköy district located on the European side of the Bosphorus.
The new Park Marina project will cover some 15,000 square meters near the Ataturk International Airport, only 15 miles west of Istanbul's financial centre, and will include restaurants, shops and a state-of-the-art marina. Park Marina is scheduled to open in mid-September.
Steven Worboys, MD of Experience International which is marketing a number of luxury residential developments in the western suburb of Beylikduzu, only 20 minutes from Ataköy district, comments:
"Such significant investment in the suburbs of Istanbul is extremely positive for the future. As the city has grown, pressure on available land in the financial centre has increased and now developers are looking to burgeoning districts in the west such as Ataköy and Beylikduzu which are seeing significant population increases and investment in infrastructure."
Dati Investment Holdings echo this viewpoint, demonstrating a commitment to the future of districts such as Ataköy. They have been parised by the government for their investment of $60 million in the renovation of the Sheraton Ataköy Hotel and $20 million in the Galleria shopping centre, one of the most popular recreation areas in the city.
Gökhan Kýran, board member and head of executive board of Dati, recently commented: "With ParkMarina life center and Dati's new projects [in the pipeline], we believe Ataköy will again be an attractive district. We also plan to build a new hotel in Ataköy and our master investment plan for the region will be a mega yacht marina."
The western suburbs of Istanbul are seeing significant international property investor interest with capital gains of up to 30% reported for Beylikduzu district. Demand for quality accommodation in this area remains high and exclusive pre-launch opportunities such as No1 Knightsbridge allow savvy investors to purchase luxury apartments at up to 50% below completed prices and enjoy a 2 year 7.5% protected rental guarantee.
For more information on the western suburbs of Istanbul or indeed investing in property, visit experience-international.com.