Istanbul's population set to soar to 15 million by 2023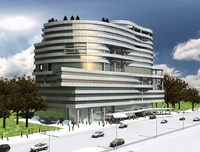 Turkey's economic powerhouse, Istanbul, where a fifth of the population resides is one of the fastest growing megacities in the world. According to the latest data from TurkStat (Turkish Statistics Institute) pressure on existing housing stock within the city is set to increase further as the population rises to 15 million by 2023.
Overall Turkey's population will soar to 83 million by 2023 and migration will be seen from eastern provinces towards the more prosperous western cities. The capital Ankara's population will reach 5.5 million and Turkey's third largest city, Izmir, will see an increase to 4.5 million.
The booming tourism industry is not only shaping the Turkish economy but also population distribution with the popular province of Antalya expecting to see its population increase by 27% from 1.9 million today to 2.6 million residents in 2023. Mugla province, located in south west Turkey and home to the well established tourist and second home destination of Bodrum, will see its population reach 1 million and Aydin, located on the Aegean coast, increase to 1.2 million.
Steven Worboys, MD of Experience International, the Turkish property experts, commented: "Turkey is a country in the midst of a dynamic shift. The continued population expansion both naturally and through migration is putting further pressure on existing housing stock in western cities. The national housing deficit is well-documented with the Central Bank of the Republic of Turkey stating a requirement for 5.5 million additional homes in Turkey by 2015, of which 50% of these are needed in Istanbul in order to address the chronic shortage of accommodation."
The population of Istanbul, awarded Capital of Culture status this year, has seen the population increase by 341,322 in the last 2 years alone and with a growth rate of 1.7% per annum, the city is expanding faster than 118 countries.
New developments are springing up in Istanbul with developers selecting prime locations in the up and coming western suburbs. The district of Beylikduzu in particular is seeing luxury residential developments such as No1 Knightsbridge which is designed to meet the accommodation needs of the burgeoning Turkish middle class.
Designed by award winning, world renowned Turkish architect, Metin Hepgüler, No1Knightsbridge will incorporate cutting-edge architectural designand include studio, 1, 2 and 3 bedroom apartments with sea and city views. Savvy investors are purchasing pre-launch with as little as £12,300 with 70% finance available and enjoying a 2 year 7.5% protected rental guarantee.
Steven Worboys concludes: "Istanbul remains one of the most exciting and attractive property markets in the world today. The enviable balance of supply and demand is in place with strong capital gains and high rental yields on offer. This truly is an investment hotspot."
For more information about investing in Istanbul or buying property in southern Turkey, visit experience-international.com.