Buyers find property purchase piece of cake in Turkey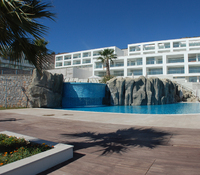 Some Brits are put off buying abroad as it's all a bit, well, 'foreign'. Not known for our proficiency in foreign languages, coping with the official paperwork can seem a little too daunting. Not in Turkey's Bodrum. Here the local bureaucracy is a piece of cake, as buyers at Horizon Sky beach resort can testify.
In a similar vein to many popular holiday home destinations, Turkey requires that buyers register with the local tax office and obtain an official tax identification number. This enables you to pay the taxes associated with buying the property plus ongoing annual taxes such as council and refuse collection. In the words of one Horizon Sky buyer, "Bodrum office easy peasy. No appointment, no English spoken, but they know why you are there! Take photocopies of passports, or florist shop across the road does copies. Tax number given on card there and then." Surely simpler than in the UK?
Before full title deed transfer can be made, and to pay utility bills by simple direct debit, it's also necessary to open a local bank account in Turkey. As you'll need to present your tax identification number alongside your passport, make sure you get to the tax office first. In Bodrum, Garanti Bank is next door to the tax office and as such is an obvious choice for the foreign buyer. Here, the experience is just as straightforward.
According to a buyer at Horizon Sky, "I opened a Garanti Bank account in lira, euros and sterling all within 30 minutes. They speak excellent English and couldn't be more helpful. I have never done anything so quick like that before in a bank in the UK. I even got on the phone to internet banking, which is all in English if you prefer, and got my access PIN numbers."
Another Horizon Sky buyer opted for a household name bank, HSBC, also in Bodrum. He describes his experience, "This takes a little longer as the Account Manager seems to want to chat forever. If you ask, they will open the account for multiple currencies for free and if you're opening a joint account, you will need all the information for both of you." Another stress-free encounter.
Perhaps the only real bugbear with buying property in Turkey is the necessity for foreign nationals to get military clearance, both property and person, although UK passport holders meet Turkish approval. Applications for freehold title deeds have to go to the military, via the Land Title Registry Office (TAPU), where they check that your chosen property is not within a restricted or military zone. This is just a formality, especially at somewhere like Horizon Sky where planning permission would never have been granted in the first instance, but it can take weeks or maybe months depending on the Turkish authorities. Don't panic, you can take possession of your home at Horizon Sky while military clearance and subsequent TAPU (Title Deed) are a work in progress.
Title deed in place, keys in hand, Turkish living gets even easier – and it's affordable too. One ongoing expense of property ownership is annual council tax, usually paid in two installments - May and November. A Horizon Sky owner describes their experience, "We have paid our first property taxes in Güllük today. The assistant to the Mayor helped me as he speaks English. They did not charge us for last year, even though we owned it then, and suggested we pay both lots of property tax for this year in one hit in case we don't get back in six months. The total for the next 12 months was only 59 lira (25GBP). Good news indeed. They also accept credit cards or a money transfer. A very cheap and easy experience."
So, don't let a fear of the unknown put you off buying abroad. You could be surprised and find that the administration is more straightforward than in the UK – as Turkey clearly proves.
About Horizon Sky
Some 35 minutes from Bodrum, on the sundrenched slopes of the Bay of Güllük dipping into the Aegean Sea, Horizon Sky is an upscale community of apartments, penthouses and villas – all with private gardens or terraces. It's the first resort in the area to feature an American-style Country Clubhouse which flanks a private beach. This facility houses a rooftop restaurant, sports bar and café, fitness suite, Spa, heated indoor and two outdoor pools. Meanwhile mini golf, several tennis courts, a grocery store, 11 more swimming pools and various Mexican, water and Japanese relaxation gardens are scattered throughout the resort.
A jetty and private water-taxi are in operation to deliver residents and guests across the Bay to Güllük town, which is a swift ten-minute drive from the International Airport, whilst plans are going through the approval process for an 80-berth marina. This asset will further enhance the investment and rental potential of Horizon Sky. An on-site reception and concierge alongside a rental management office are also on hand to maximize occupancy throughout the year.
Prices at Horizon Sky start from €98,000 euros (approx. £81,360GBP) for an 87m² duplex two bedroom apartment. Customers can name a deposit from 20%, name their preferred term (from five to ten years) and Horizon Sky will adapt a plan to suit. Monthly payments can be increased or decreased as necessary, as much as 45% can be delayed for five years or the entire amount can be paid off early. The developer is also offering ten-year finance plans at a rate of 4.9% interest, around 2% below a Turkish mortgage rate.
For further information, visit signatureinternational.co.uk.