Maserati at Pitti Immagine Uomo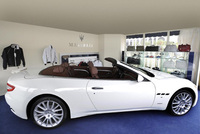 Appreciated and renowned worldwide for its elegant, refined style, Maserati introduces with its partners at Pitti Uomo, from 15th to 18th June, a selection of the best yachting and golf apparel, casual footwear, leather bags and accessory creations. Created with Vuarnet, Suprem and Pellemoda, respectively, the Maserati brand products will be showcased during these days at Fortezza da Basso, Cortile Polveriera (Stand 2).
Guest of honour is the Maserati GranCabrio, the first Maserati four-seater convertible, an emblem of sophistication, elegance and timeless style designed by Pininfarina, but above all a car to be enjoyed in the open-air, capable of evoking the joie de vivre and the perfumes of the warm season that characterise the Spring-Summer 2011 edition of Pitti Uomo.
Pitti Uomo is the most comprehensive, dynamic event on the men's fashion scene and is chosen year after year by top companies to present their collections and special projects. Pitti Uomo is dedicated this year to the theme of Design Watching, from craftsmanship to contemporaneity, under the sign of identity and innovation of the greatest names in men's fashion. Historical roots and modernity, Italian spirit and international appeal: all values perfectly expressed by Maserati which can now - thanks to selected partners - be worn as well as driven.
Vuarnet is official supplier of the Italian, French, Russian and Romanian skiing teams. Leading brand in its field, Vuarnet has designed an outerwear range for Maserati with a great look that is comfortable to wear and responds to the needs of the most exigent sportsmen engaged on skiing pistes, golf courses and regattas.
Despite its recent establishment (the company was founded only in 2005), Suprem is an expression of the best industrial tradition of the Brenta district, near Padua, Italy. The experimental research and manufacturing quality of Suprem are well represented in the MC and Granturismo sneakers.
Pellemoda, consolidated partner of some of the most famous fashion labels in the world, takes inspiration from the Tuscan leather manufacturing tradition and combines the expectations of customers and partners to produce unique, timeless objects, such as bags, PC bags and wallets, all with the Maserati signature.