Honda supports UK's largest ever motorcycle open day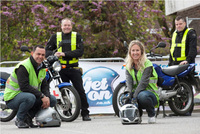 Honda (UK) and many of its motorcycle dealers will be joining forces with the 'Get On' campaign this weekend to support Britain's largest ever biking open day, on Saturday 19 June, when motorcycle dealers throughout the country will be welcoming existing and potential bikers into their showrooms for the launch of the national 'Get On' campaign - which aims to get Britain biking.
Riders are being encouraged to play their part in supporting and boosting the motorbike and scooter industry by bringing along a non-riding friend to their local dealer. Any biker who brings a friend will be entered into an amazing prize draw which includes the chance to win items from a GPRX7 Leon Haslam limited edition World Cup design helmet, a 2-piece BKS suit or a set of Angel ST Pirelli tyres, to holidays for two in Italy and Spain!
All non bikers, who will have the chance to find out about motorbiking and sign up for the 'Get On' campaign's free one hour taster riding session, can enter another competition for the chance to win a selection of iPads, iPod nanos and digital cameras.
Seven of Honda's motorcycle dealers – CJ Ball in Norwich, Fowlers in Bristol, Tillston Motorcycles in Stockton, Victor Devine in Glasgow, Ecosse Motorcycles in Aberdeen, GT Motorcycles in Plymouth and B&M Honda in Chesterfield - are among the 12 'main' regional dealers to host a Get On open day event, although a total of 65 dealers across the country will be also be holding Get On open days to ensure that motorcyclists across the whole country can join in.
The National Motorcycle Dealer Open Day is being run by the Motorcycle Industry Association's (MCIA) 'Get On' campaign, which aims to get more people on to two wheels and enjoy the many social, economic, practical and environmental benefits of biking. At the heart of the Get On campaign is the free one hour taster session which is available to anyone over the age of 16 by registering at geton.co.uk.
Steve Martindale, General Manager of Honda (UK) Motorcycles commented, "The Get On campaign initiative is important to the whole industry and it's great that motorcycle manufacturers and dealers across the whole country are joining together to promote our fantastic industry, as well as the huge and varied benefits of biking, in an informative but also fun and inviting way."
Miles Taylor - Get On Campaign Director, said, "The 'Get On' campaign is all about making biking more accessible and highlighting the real benefits of two-wheels. The National Dealer Open Day will give people throughout the country even more of an incentive to go into 'Get On' dealers, find out about the many benefits of life on two wheels and sign up for a free one hour taster session. There are 1.5 million active bikers in the UK and every one of those has friends who don't ride but may be interested in trying it. There's a general perception that motorbiking is difficult to get into and dealerships can be intimidating places to go for those interested in finding out more about it. Were certain this national open day will take away those barriers and make bikes and biking more accessible and easy than they have ever been."
For a full list of dealers participating in the Get On national open day visit geton.co.uk and to find you nearest Honda motorcycle dealer, click on 'Dealer Search' facility within the motorcycles section of honda.co.uk.