The ultimate US road trip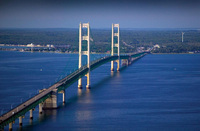 Brits debating their next US holiday destination need not worry about narrowing their trip to just one location. With such a vast country on offer, the choice can often be difficult, which is why visitors are now turning their thoughts to multiple destinations as they recreate their own Thelma and Louise moment and head to the Great Lakes for the ultimate road trip.

Research by a leading car hire company* has revealed that the region is attracting an increased number of visitors that are choosing to spend a couple of nights in the cultural gateway cities of Chicago, Detroit, Philadelphia and Minneapolis before hitting the great open road in a bid to escape the hustle and bustle and experience the 'real' America.

The Great Lakes of North America includes the inter-connecting states of Minnesota, Wisconsin, Michigan, Illinois, Pennsylvania, Ohio and Indiana. The Great Lake states play host to some of the world's top road trips taking in small town culture, the vast wilderness, theme parks, movie sets and just about everything in between! Take a look at our top three road trip itineraries for some off-beat holiday ideas.

Chicago - Wisconsin Dells - Spring Green/Baraboo – Wisconsin – Dells - Lake Geneva – Chicago:
If we could box up the ultimate family fun getaway this would definitely be it - combine a Chicago city break with a short touring itinerary to entertain the whole family. Once you have exhausted the cultural mesh that is Chicago with a combination of art and history museums, superb shopping on the Magnificent Mile and an award-winning theatre production or two, pick up your rental car and head north to Wisconsin Dells. Wisconsin Dells, also known as 'Waterpark Capital of the World', boasts a total of five outdoor and three indoor water parks including the infamous Noah's Ark waterpark, America's largest! If that's not enough to keep you busy, Wisconsin Dells also boast four theme parks for even more thrills and excitement!

Leaving Wisconsin Dells doesn't mean the fun has to end, Spring Green and Baraboo each offer unique attractions, from the House on the Rock, a uniquely-designed building with a distinctive design, to the Circus World Museum where you can learn everything you ever wanted to know about the circus tricks of the trade. The penultimate stop is tranquil Lake Geneva that lends itself to water-based enjoyable activities – grab a kayak or hire a boat for a day trip; or if you prefer to keep your feet dry, rent a bicycle and take off on a family bike ride to explore the surrounding area.

Chicago – Rockford – Madison – Minneapolis/Saint Paul:
Alternatively, why not start your trip in Chicago before heading north and stopping off in the charming town of Rockford to explore the town's museums and the largest Japanese garden in the US - Anderson Japanese Garden - en route to the city of Madison. Madison, the Wisconsin capital, features majestic landmark buildings in addition to State Street Mall bustling with shops, restaurants and entertainment. For the final leg of the tour, head north to Minneapolis and split your time between the twin cities of Minneapolis and St. Paul, the last city of the east and first of the west! The town of Bloomington, outside the twin cities, is a great stop off for shopaholics - home to Mall of America, the largest mall in North America, with over 520 shops with tax free shopping and entertainment options. If that wasn't enough to kill a shopping appetite, then the Albertville Premium Outlets north-west of Minneapolis should sort any left over cravings!

Philadelphia – Allenstown – Cleveland - Toledo – Detroit:
For car enthusiasts, what better way to embrace a road trip than with a motoring theme? Taking the chance to stop off and experience small town life in-between, start your trip off by flying into Philadelphia, Pennsylvania and head north to Allenstown to check out the America on Wheels Museum, home to the past, present and future of America's road transportation. Lehigh Grand Prix, an impressive indoor kart racing facility, is also located in Allenstown. From here, head west to Cleveland to pay homage to the vehicles of yesteryear at the Crawford Auto-Aviation Museum before heading towards Toledo, a city renowned for it's rich glass and auto heritage. Finish your route in Detroit, dubbed the Motor City, home of the Henry Ford Museum and Greenfield Village, where visitors can ride a Model T.

Toby McCarrick, Executive Director of the Great Lakes of North America said: "The increase in rental car activity is testament to the richness of the region. The Great Lakes region not only offers some great cities for short breaks, but also some excellent road trips with itineraries taking in the vast amount of heritage and attractions from multiple states. Easily accessible, with more flights departing from local regional UK airports, Brits are leaving the typical US holiday hotspots behind to get a unique experience combined with a traditional city break."

To book or for further information on the suggested itineraries, visit bon-voyage.co.uk.

For further information on the Great Lakes of North America, visit greatlakesnorthamerica.co.uk.