Inspirational US journeys from Jetsave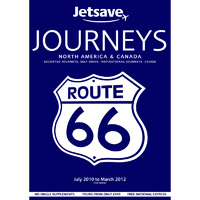 Go clubbing with the stars in Las Vegas and check out the homes of the stars in Hollywood on one of six themed Inspirational Journeys now available from top US tours specialist Jetsave in its new Jetsave Journeys brochure.

Party animals will love LA Stars & Vegas Bars. This Inspirational Journey combines Los Angeles and Las Vegas in the ultimate West Coast journey for celebrity seekers, touring LA's Beverly Hills, Holmby Hills and Bel Air estates and playing the casinos of Sin City by day, before hitting the hotspots after dark.

Join celebrity partygoers like Kim Kardashian, Paris Hilton and Justin Timberlake at some of the most glamorous LA and Vegas bars and clubs, including TAO and PURE. Jetsave provides VIP entrance to these and other famous haunts, to fast track partygoers past the notorious queues. Accommodation is equally chic - from the fashionable Hotel Andaz West Hollywood on Sunset Strip to the fabulous Caesars Palace in Las Vegas. Prices start from £1,479 per person for a nine-day trip departing London Heathrow on 13 November 2010 and include flights, room only accommodation and a full club and day time itinerary.

On another Jetsave Inspirational Journey you can follow New York's Sex and the City lifestyle with Vegas club nights thrown in on Cosmo's & Casinos (from £1,819pp). Trippers will still get to fast track it into TAO and PURE in Las Vegas but will also take the Sex & The City Hotspots tour in New York, stopping at the Magnolia Bakery like Carrie and Miranda for a cup cake and enjoying a Cosmo at Scout, the bar owned by Aidan, Carrie's ex.

Alternatively, indulge in a seven-day helping of Vegas shows on Simply Vegas (from £1,539 per person for 20 November 2010 departures). This seven-day 'show-time' journey around Sin City sandwiches the dynamism of Cirque du Soleil's mix of acrobats, drama and music between a 'Rat Pack' big band music experience and the glitz of a Caesars Palace show featuring an international megastar.

The new Inspirational Journeys are themed trips, tailored to people who like to play hard on holiday. Each of the six action-packed itineraries is designed to be taken individually rather than in groups but incorporates the in-destination support of Jetsave's local USA teams. Check the itineraries at jetsave.com. These are among 45 Jetsave Journeys of North America, including 25 escorted tours, eight self-drive trips and six cruises.