The perfect Wimbledon sandwich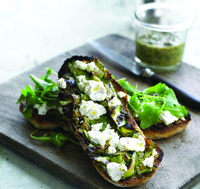 Whether you're watching Wimbledon from Centre Court or your armchair this year, you'll need something to keep up your strength in the heat of match-point tension.

Stand out from the crowd by unwrapping a grilled French goat's cheese mini-log and walnut pesto ciabatta from the Easy Cheesey Chèvre recipe created by top chef Sophie Wright – the real perfect serve.

Enjoying good food doesn't have to mean being chained to the kitchen for hours on end or spending a fortune in fancy restaurants. French goat's cheeses are the perfect ingredient for a wide variety of quick and easy recipes that can be shared with family and friends or be devoured on your own.

French goat's cheese mini-logs have a smooth texture and a delicate but distinctive taste with subtle hints of fruit. Billy Bûche says, "If you fancy accompanying the mixed doubles final with a tasty picnic, French goat's cheeses are your perfect serve. The grilled French goat's cheese mini-log and walnut pesto ciabatta is not just a sandwich but a stylish and satisfying snack or lunch. To jazz up your courtside nourishment, French goat's cheeses really are 'faultless!'"

Sophie Wright's Grilled French goat's cheese mini-log and walnut pesto ciabatta:

Preparation: 20 minutes
Cooking: 10 minutes

Makes 1 sandwich

Ingredients

75g French goat's cheese from a mini-log
1 ciabatta roll
1 handful rocket
1 courgette
1 tbsp olive oil
Salt and pepper
1 lemon

For the pesto
50g walnuts
1 small bunch basil leaves only
1 small bunch flat leaf parsley
50g grated parmesan
75ml extra virgin olive oil
Juice and zest 1 lemon
2 cloves garlic, peeled and chopped
Salt and pepper

Method

Start your sandwich by first making the pesto. This can be done up to a week in advance.

Take the parsley and basil leaves and place in a food processor along with the chopped garlic, walnuts, parmesan, olive oil and lemon zest. Blitz to a chunky paste, before adding the lemon juice, salt and pepper. Make sure you taste it for seasoning. You may need a squeeze more lemon.

Heat up a griddle pan to the highest setting. Slice the courgette very thinly. I prefer to do this using a swivel-head peeler so you get very thin ribbons but a knife will do the job. Coat them in olive oil, season with salt and pepper and lay them on the hot griddle pan. Leave them to cook until bar lines start to appear, turn them over, add a squeeze of lemon juice and leave to cook on the other side for about the same length of time.

While the courgettes are cooking, cut the ciabatta in half, drizzle with olive oil and sprinkle with a little sea salt. Lay the bread cut side down onto the griddle pan and allow to char for a few minutes. Spread both sides of the warmed bread with the walnut pesto.

Once the courgettes are cooked, lay them on to the pesto-covered ciabatta and crumble over plenty of goat's cheese, drizzle with yet more olive oil and place under a hot grill until the cheese starts to melt and bubble.

Once cooked, lay on plenty of rocket, place the two halves of the sandwich together and eat straight away.

For more Easy Cheesey Chèvre recipes or information on French goat's cheeses, visit frenchgoatscheese.com.