Yahoo! plays ball with Ping!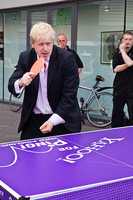 Yahoo! is excited to be working with Ping! the street table tennis project, to offer Yahoo! users the ability to experience, play and enjoy a summer of ping pong across London.

This follows on from last week when Yahoo! brought readers closer to David Beckham and World Cup gossip with live and exclusive content across yahoo.co.uk.

Ping! launches on the evening of Thursday 22nd July at St Pancras International with extreme ping pong, singing pinging and ping pong master classes. There will be over 100 Yahoo! ping-pong tables popping up in weird and wonderful places across the city for our readers to enjoy playing on, taking full advantage of being outdoors this August. Yahoo! is working alongside Sport England and the English Table Tennis Association to get a million more people playing ping pong in the run up to the 2010 Olympic Games.

Andrew Cocker, Head of UK Marketing, Yahoo! said: "Ping! is a fantastic series of events which enable people to have fun playing table tennis across the capital in both iconic and obscure locations. We're encouraging Yahoo! users and the wider public to play no matter where they are, what time of day it is or whatever standard they are. It's a great way to socialise and have fun this summer and we're delighted to be a part of it, this further extends Yahoo!'s commitment to sports and aiming to be at the centre of peoples online lives".