Gulf Air announces services to Aden and Colombo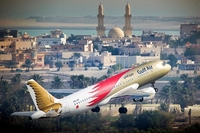 Gulf Air, the national carrier of the Kingdom of Bahrain and the region's largest network carrier, has announced the launching of services to Aden in Yemen and re-launching of services to Colombo in Sri Lanka.

Gulf Air will begin services to Aden via Sana'a from 22 September with four weekly services while Colombo service will begin from 5 October with five flights per week. The routes will attract business from visiting family and relatives (VFR), the business diplomatic service communities and, the tourism industry. The flights to these new destinations will be served by an A319 and A320 aircraft respectively.

"The launching of services to these two new destinations further demonstrates our new business strategy to identify and expand our operations into niche and under-served markets and, create potentially high yield city-pairs by providing direct service to Bahrain and beyond" said Mr. Majali.

"Gulf Air is establishing a leadership position as the first Gulf carrier to connect Aden to the region as currently no other Gulf carriers are serving this city. As the commercial capital of Yemen, Aden presents enormous opportunity for Gulf Air to establish itself in this new market. The city has recently been included in the Yemen government's development priorities with major plans to support the city's trade zone, port, airport and private sector and by attracting promising investments.

"On the other hand, Colombo is not new for Gulf Air as we used to fly as far back as 1976 and until March 2005, and I am glad the time has come for us to re-connect with the capital of Sri Lanka. Besides being the country's largest base for commerce and trade, Colombo is also a popular tourist destination with its fabulous beaches and cultural attractions. In addition, the re-commencement of service to Colombo will be great news for the thousands of Sri Lankan residents in Bahrain as they now have a direct and non-stop service to their country."

He continued, "We believe there is a strong commercial potential in these two cities and we hope these routes also will be successful like the other six routes that we recently launched.

"As we continue to identify our new routes within the region, we will also expand our network to new destinations in some of the world's leading financial markets, to support Bahrain's booming financial services and trade sector. In weeks to come you can expect us to announce some more new destinations within and beyond the Middle East region."

As part of its business strategy, Gulf Air has been reviewing its entire route network and the airline has added six new destinations to its network since September 2009 - Baghdad, Najaf and Erbil in Iraq, Alexandria, in Egypt, Aleppo in Syria and Medina in Saudi Arabia.

Bookings to these two cities are now open and customers can book their tickets online at gulfair.com.