Time running out for 2011 Caterham Academy Racers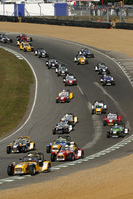 Time is running out for aspiring racing drivers to join the 2011 Caterham Academy grid, with only a handful of the 56 places on the grid remaining.
Such is the continuing popularity of the Caterham Academy that, long before the 2010 motorsport season has ended, more than 40 drivers have already signed up for the 2011 season.
The Academy offers the chance to become a fully-fledged racing driver, from getting your race licence to learning race-craft and completing your first full season of competition.
Motorists wishing to snap up one of the few remaining places on next year's championship should call 01883 333700 or email sales[at]caterham.co.uk.
The Caterham Academy has been running since 1995, expanding to two grids five years later to cope with the series' popularity.
Every Academy car is fully road-legal and included within the package price.
For just £18,495 the package includes an Academy Seven in component form, technical support and on-event guidance from Caterham's experienced team, as well as an introduction to several different motorsport disciplines, with circuit racing, hillclimbs and sprints all on the calendar.
Over the years, the series has created hundreds of new racing drivers from all walks of life – the class of 2010 includes a pilot, a microbiologist, an actor and a brewery chairman.
Caterham Cars Motorsport Manager, Simon Lambert, said: "We believe there's no better way to take your first steps into motorsport and our view appears to be backed up by the continuing demand for our grid slots. At the end of July we've only got a few places left to sell so anyone else who wants to join the fun is going to have to act fast."
For more information, visit caterham.co.uk.