Facebook group vote Brian Blessed to be voice of sat navs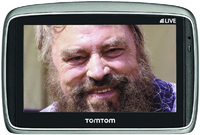 The voice of Brian Blessed will soon be bellowing out of your sat nav after a campaign on Facebook attracted over 25,000 members.
Motorist Richard Gardner from Saddleworth, Manchester decided he wanted his driving experience to be shoutier and more beardy. But when he discovered that the king-sized actor's booming voice was not available on his TomTom sat nav, he decided to set the wheels in motion himself.
Richard launched a Facebook group called "Campaign to get Brian Blessed to do a voice-over for my sat nav" in April 2008, and promptly forgot about it. In February 2010, he revisited it to find 450 members. Realising there was some demand for the voice he proceeded to spread the word and within weeks attracted several thousand members.
As the petition gathered momentum, Richard contacted TomTom who said they would open negotiations with Brian Blessed if the group attracted 25,000 supporters. Richard then approached the big Yorkshireman himself, who agreed to film a campaign video and lend his voice if the target was reached: youtube.com/watch?v=-JpKuYbJQK4
The group now has 25,772 members and TomTom has confirmed that the Official Shoutsperson of the University of York Douglas Adams Society will also be the new voice of sat nav from October.
"I believe this is the first time that a product has been created through social media," Gardner said. "Companies have been spending so much time and money trying to work out how to use Social Media to sell us stuff, I wondered whether it was time they started thinking about using it to ask us what we'd like to buy?"
Perhaps best known for his role as Prince Vultan of the Hawkmen ("Drive, my Hawkmen, Drive...") in the film Flash Gordon, Brian Blessed will now be able to 'save every one of us' from getting lost. It's not yet known whether he will shriek "Gordon's arrriiiiiived" when drivers reach their destination.
Damian Woodward, TomTom UK VP sales and marketing said: "Voices are becoming an ever more popular personalisation tool for our sat navs and it's been an interesting journey watching this particular campaign take shape. It shows the power of social media, and if we can bring shouty happiness to over 25,000 people who are we to deny it?"
More information about the group can be found at: facebook.com/BrianSatNav which will continue to be updated with information, videos and competitions ahead of the voice launch.
Brian Blessed is "thrilled to bits": youtube.com/watch?v=BOicbYFq4C0
Consumers can also post suggestions for voices they'd like to hear on their TomTom sat nav at: twitter.com/uktomtom
The best-selling celebrity voices for TomTom have been Homer Simpson, John Cleese and rapper Snoop Dogg, with Billy Connolly and Darth Vader recently added to the collection.
TomTom sat nav devices guide drivers with audible, turn-by-turn instructions and 3D maps, saving time and money through technical innovations such as IQ Routes. This is based on the world's largest collection of historical speed profiles - 1.8 trillion speed measurements - across 15 million kilometres of European roads. TomTom's Live Services include HD Traffic for real-time traffic information, updated every three minutes.