New Scania Irizar i4 for Laguna Travel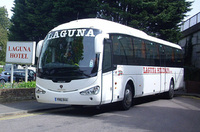 Bournemouth hotel and coach operator, Laguna Travel, has taken delivery of its second Scania Irizar i4 coach. Supplied by Scania (Great Britain) Limited, the new vehicle is based on a Scania K340 IB 4x2 340 chassis and features a 340 horsepower Euro 5 Scania engine with Exhaust Gas Recirculation (EGR).
"While we have operated Scania coaches for many years and are therefore well aware of the benefits they deliver to a cost-sensitive business such as ours, Scania Euro 5 vehicles offer a considerable additional advantage in the they do not require the addition of AdBlue," comments Laguna Travel Partner, Richard Gwynne. "Couple to that their proven quality, performance and Scania's local and nationwide backup and it all adds up to an excellent package in my opinion."
Originally starting in business as the operator of Bournemouth's Laguna Hotel, Laguna Travel diversified into coaching in the early 1990s in order to provide its customers with a door-to-door holiday experience. Over time, the company further developed the transport arm of its business and today operates a fleet of nine coaches, eight of which are Scania. In addition to its own programme of holiday packages, the company is also involved in private hire and schools' contracts.