Seven's saviour honoured with memorial Blat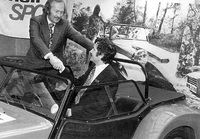 The life of Graham Nearn, rescuer of the legendary Seven sportscar and founder of Caterham Cars, will be celebrated with a 'Memorial Blat' next month.
Graham passed away last year and Seven owners are expected to turn out in their hundreds on Sunday, September 5, for one of the largest gatherings ever seen.
With four start points throughout the country, hundreds of Sevens will descend on Stow Maries Aerodrome where a hog-roast and other refreshments will be provided, fuelling the afternoon's chat and banter.
Organised by the official club for Lotus and Caterham Seven owners, the Lotus Seven Club, the mass gathering was conceived to honour Graham's crucial role in extending the life, and improving the recipe, of one of Britain's most famous motor vehicles.
Caterham Cars Sales and Marketing director, Andy Noble, said: "Graham Nearn fell in love with the Colin Chapman-designed Lotus Seven and was responsible for resurrecting the design, thereby creating Caterham Cars. The Memorial Blat is an excellent way to remember Graham and to enjoy the cars that he was responsible for saving all those years ago.
"Our best-known model has come a long way since its first incarnation in 1957 and its debut as the Caterham Seven in '73. It was then, and is still, the benchmark for handling and performance at almost any price category, and we intend to carry on as Graham would have wanted."
As a memento of the gathering, an aerial photograph will capture all Lotus and Caterhams attending arranged to replicate the famous Seven badge.
The ticket price includes a charitable donation to the Stow Maries Museum Trust and also the NtL, the chosen charity of the Nearn family.
To participate, you'll need a Lotus or Caterham Seven and membership of the Lotus Seven Club, plus £12.50 per person or £10 for under 16s.
For more information, visit lotussevenclub.com or caterham.co.uk.