Go beyond with Land Rover and Biosphere Expeditions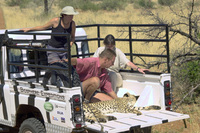 Summer in the UK is the perfect time to experience the outdoors, but too many of us are cooped up in offices up and down the country to spend time outside. This summer, everyone in the UK, Spain and Italy will be given the opportunity to go beyond their everyday lives and make the dream of the outdoors a reality.
Land Rover, together with longstanding conservation partner Biosphere Expeditions, is offering seven people across Europe the unique opportunity to win a place on an expedition to Namibia, Africa. As part of a team of researchers and scientists, the team will conduct vital research on the behaviour of big cats such as leopards and cheetahs.
During the two-week expedition, which begins in November 2010, the team will learn the skills needed to live in the bush, and may assist with capturing and collaring big cats so they can be tracked and monitored effectively. They will also work with local communities to create a sustainable future for all.
The competition, launched on 12th August 2010, requires entrants to upload a video demonstrating why they deserve a place on the expedition. An online voting system will allow videos to be ranked in order of popularity, following which 25 people will be shortlisted. The shortlisted 25 will then attend a final selection day, where the final five will be announced on 9th October at the Land Rover Experience Centre in Eastnor, South West England.
During the Land Rover Experience Day, the group will learn how to use a Land Rover across difficult terrain, preparing them for the African landscape. They will also learn how to use GPS navigation systems, enabling them to search for animals and then record information about the animals' behaviours.
Visit landrover.co.uk for further information and to apply to go beyond the everyday. Competition closes on 30th September 2010.