Yamaha Vity turns up the style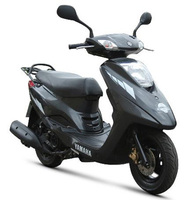 The Yamaha Vity 125 scooter is one of the brand's success stories. The best- selling scooter in 2009, the Vity has remained in the No 1 position for this sector so far this year.
The Vity is economical to insure, run and buy and now, Yamaha has developed a graphic kit that will attract younger riders. By adding Yamaha's famous Speedblock graphics to the bodywork of this popular model, their use synonymous with the company's racing and sport heritage, its looks are transformed into a much more sportier ride.
The Speedblock graphic kit for the 2010 model attracts a retail price of £29.99 for those customers who want to retro fit it to their machine, and for those who want it added to their new bike, your authorised Yamaha dealer can do it for you when you order your new 2010 Vity.

Don't forget that the Vity is also one of the bikes that comes under Yamaha's Tough Choice option where new customers have the choice between 0% finance (APR typical) OR Free insurance – click on yamaha-motors/offers for full details and terms.