The English apple season is upon us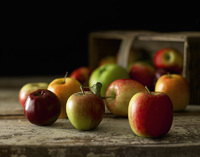 While there are question marks as to whether the end of summer is nigh, it is with certainty that Waitrose announce the start of the English apple season.

The first crop of Discovery apples hit branches on Wednesday 18th and their arrival signifies what promises to be the start of an exciting English apple season at Waitrose. As we progress into autumn, shoppers will be able to choose from some forgotten gems as well as some new varieties of apples, which haven't been offered as UK grown before.

David Mitchell, buyer at Waitrose comments, "Our Discovery apples have looked good for the last couple of weeks but we like to wait until the sugars have developed allowing Waitrose customers the best tasting apples - we never compromise on taste.

He continues," We think they taste better than last year and some of our growers agree – they put this down to the very cold winter which has made for an intense flavour".

This autumn, Waitrose will also be introducing some new varieties of apples that have yet to be offered as UK grown before, including Kanzi. According to David Mitchell, "it's an attractive red apple with white lenticels which offers quite a different eating experience. It combines the renowned flavour complexity of some of the traditional varieties, but also has a really good, crisp eating quality – this means this season's English apples will be available in store for longer".

Waitrose will be supporting more traditional heritage varieties too, including some of Britain's oldest and most traditional varieties such as Lord Lambourne, Kidd's Orange and Red Pippin' planned for later in the season.

Waitrose Discovery apples go on sale Wednesday 18th August and will be priced at £1.79kg loose and £1.99 bagged. As with all of our British fruit there will be promotions during the season.