Yamaha offer Six Zero on a new plate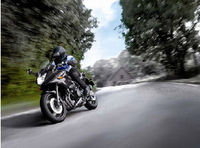 Many riders will be looking at the new registration plate for 1st September and asking themselves if they can afford to get a new bike. Well Yamaha have great news for those customers wanting to trade up to a bigger bike or get into a brand new Yamaha XJ-Series motorcycle.
From now until 30th September, customers buying any new Yamaha XJ-Series model from participating authorised Yamaha dealerships can enjoy a staggering 60 months (that's 5 years) zero per cent finance, with just a
£99 deposit.
As an example of how affordable this will make the monthly repayment on a new XJ6 Diversion, customers would pay under £97 per month over the 60 months term – the word affordable doesn't even come near!
All XJ-Series machines are included in the offer, both 2009 and 2010 models – XJ6/ABS, XJ6 Diversion/ABS and XJ6 Diversion F ABS.