2011 Yamaha off-road models arrive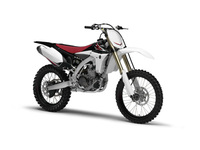 Yamaha is pleased to announce that its 2011 off-road competition line-up will be in dealer showrooms by the end of August.
The 2011 range still represent the pinnacle of motocross technology and innovation from its 4-stroke models like the radical reverse-cylinder YZ450F with its front mounted air-box and rear exiting Tornado exhaust system, the YZ250F which is already proving to be the machine to beat in the hands of Bike It Cosworth Yamaha ace Zach Osborne, right through to its legendary 2-strokes of the YZ85, YZ125 and YZ250.
And last but not least the line-up is rounded out by the stalwarts of Enduro competition in the form of the rugged and ultra-reliable WR250F and WR450F.
For a full details on the complete model range, log onto yamaha-motor.co.uk.
Alternatively get down to your nearest authorised Yamaha off-road dealer.