Focus RS500 slows down to join Ford history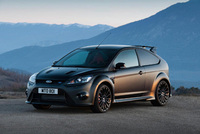 The first example of Ford's fastest selling performance car in the UK is set for a slower pace of life after joining the company's heritage collection.
The Focus RS500 was unveiled as a limited-edition model of 500 retail units plus 12 models produced for demonstration and press purposes. Just 101 right-hand drive Focus RS500 models were available in the UK and they sold out within days of being launched.
The first right-hand drive press unit in the UK, number PR001, has featured widely in motoring magazines and will now join the company's Essex-based fleet of heritage vehicles at Dagenham. Sitting alongside such icons as the 1970 London to Mexico winning Ford Escort, the Ford RS200 and the 2005 Ford GT supercar, the Ford Focus RS500 will be put on public display at motor shows and Ford dealers.
Ford corporate affairs manager, Brian Bennett, said: "The heritage collection is the largest collection of roadworthy historic Ford vehicles in the UK and includes some of the industry's most famous vehicles such as the Ford Model T and the Ford Cortina. Performance models feature strongly and the Ford Focus RS500 was an obvious choice to include as a future classic."