Yamaha 25% off leathers discount extended!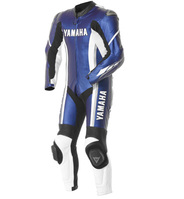 Yamaha is very pleased to announce that it has extended its 'Speedblock' Leathers discount offer until the end of September, to coincide with the new '60' registrations. Until 30th September, you will be able to claim 25% off the recommended retail price of Yamahas one-piece and two-piece, Dainese- manufactured, 'Speedblock' leather riding suits, exclusively through the network of
Yamaha Lifestyle Centres.
To take advantage of this fantastic offer, just log onto yamaha-motor.co.uk, download and print the 25% Discount Voucher, then get down to your nearest Yamaha Lifestyle Centre to claim your 25% off when you purchase a 'Speedblock' leather suit.
But whether you're indulging in a new '60' registration or you're already the proud owner of an R-series Yamaha, why not finish off the look with some new 'Speedblock' leathers!
To get a closer look at these superb suits and find out the location of your nearest Authorised Yamaha Lifestyle Centre, check out the Yamaha website at yamaha-motor.co.uk/accessories.