Turkey - Condé Nast Traveller Destination of the Year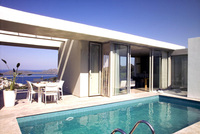 Turkey has swept up the highly prestigious accolade of the Condé Nast Traveller's favourite country in the destination category at the 12th Annual Readers' Travel Awards on Wednesday night. This is the first time that Turkey has won the award and it goes to show how the country has catapulted into the lime light for holidays and even second homes. It is this popularity that has also secured Turkey a number 2 spot in The World's Top 100 list.
Irfan Onal, Director of the Turkish Culture and Tourism Office UK enthuses, "We are thrilled that Turkey has won this prestigious award, which is even more meaningful given that it is chosen by the readers themselves. This is the highlight in what has been a very successful year as the Turkish Culture and Tourism Office UK. Indeed, visitor numbers from the UK continue their spectacular rise, with year-on-year figures up 15.5% for the first 7 months of this year."
It is this rise in popularity and profile of the country that has captured the hearts of overseas home buyers. For those who have holidayed in Turkey, have experienced the rich culture, warm climate and excellent hospitality and have gone on to search for a piece of Turkey to call their own.
Julian Walker, Director of Spot Blue a leading property agent in Turkey comments, "Year on year enquiries for homes in Turkey have increased. We are seeing leisure purchasers set their eyes on some of the fabulous coastal resorts on the Mediterranean Sea and Aegean Sea and we are also finding investors flooding into the market with a particular interest in Istanbul."
Istanbul, the European Capital of Culture 2010 also scored highly in the Condé Nast Traveller awards being voted in the top 10 in the Overseas Cities category (5th place), taking top marks for people/hospitality.
For lifestyle buyers seeking a glamorous villa retreat, Julian recommends Yalikavak Villas 450 meters from the beach, close to the Yalikavak International Yacht Marina and only 18 kilometres from the vibrant town centre of Bodrum. This private development consists of 24 unique modern detached villas, each with magnificent sea views, spacious terraces, private swimming pools and state of art features. There are three types of villas available, 10 three bedroom, 9 four bedroom and 5 three storey, six bedroom villas.
All these properties are built to the very highest standard; the architect has designed each property in a very modern and contemporary way especially to make the most of the stunning Aegean Sea and mountain views which are spectacular. With prices starting from £325,000* discerning buyers can purchase a piece of Turkish paradise without the huge price tag.
Julian continues, "Turkey offers excellent value for money for both holiday makers and home owners. The cost of living is so low and in real estate you can get a lot for your money compared to other European destinations. Value for money was one of the voting criteria as well as climate, culture, variety of attractions, people / hospitality amongst others. We can certainly see why Turkey has won the prestigious Condé Nast Traveller award, it simply ticks all the boxes."
For more information, visit spotblue.co.uk.