Yamaha Off-Road Experiences at Carole Nash Motorcycle Live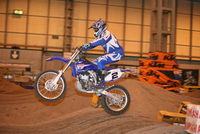 Yamaha has announced a major commitment to the off-road section of Carole Nash Motorcycle Live by sponsoring both the Indoor and Outdoor adult Off-road Experiences.
Visitors to the biggest motorcycling event of the year at Birmingham's NEC will be able to sample Yamaha's Motocross School with a specially-constructed indoor circuit, built with novice off-roaders in mind.
As long as riders are over 14 years, meet minimum height requirements and have some experience of riding with a clutch and gears, they can get a flavour of motocross on Yamaha's WR250F machines, with all riding kit provided. Riders will also be given the chance to buy a souvenir photograph of their experience.
For those meeting similar age, height and riding criteria and wishing to sample more enduro-based off-road riding, Yamaha will also run its own outdoor off-road experience, based on Geraint Jones's enduro school in Wales, at the event.
Riding a Yamaha WR250F on a special woodland course just outside the NEC's exhibition halls will give visitors a full flavour of the whole enduro experience with Yamaha once again providing all riding kit required.
Both features are completely free, so early booking at the event is advised and both will be co-ordinated by the Yamaha Off-road Experience in Hall 2, with enduro riders being transferred to the woodland course by Yamaha golf cart.
Finlay McAllan, Managing Director of event organisers, MCIE, said: "Yamaha's decision to sponsor not only the already-successful Indoor Off-road Experience but add the Yamaha Enduro Experience underlines our position as the UK's number one motorcycle event, both in terms of manufacturers exhibiting and the interactivity that's on offer."
Yamaha's Karl Radley confirmed: "We are really pleased to be able to put the Yamaha name to the off-road experience at Motorcycle Live 2010. Yamaha are totally committed to all aspects of off-road and adventure riding, as can be seen in our current model line-up with the introduction of the innovative reverse-cylinder YZ450F motocrosser, as well as the return of legendary models like the 660 Tenere and 1200 Super Tenere models."
He added: "To be able to give show-goers the opportunity to get first-hand experience of off-road riding, be it enduro or motocross, will be immensely satisfying for all involved. Both our motocross and enduro schools are very highly regarded by their respective customers and their presence at Motorcycle Live 2010 will only serve to broaden the appeal of off-road to a much wider audience. Motorcycle Live 2010 will also be the perfect opportunity to further showcase our off-road heritage with the launch of our exciting new Yamaha adventure riding experience coming in 2011."