Ford S-MAX projections 'get more out of life'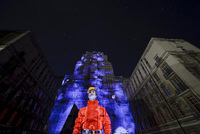 The Ford S-MAX marketing campaign comes to life as Ford replaces traditional outdoor advertisements with advanced 3D projections to communicate the new car's many advanced technologies.
The interactive outdoor campaign, developed as part of the launch of the new S-MAX, debuted on September 9. It consisted of two integrated sequences - starting with two minutes of theatrical film followed by six minutes of laser sequences projected on to the side of iconic buildings in the UK.
Spectators saw the building exteriors apparently freeze over, with an ice-climber then scaling the walls to the summit. Borrowing from video and arcade games, members of the audience could then use laser 'guns' to cut away sections of the ice which appeared to collapse and fall to the ground.
Ford partnered agencies Ogilvy & Mather and Seeper, interactive arts and technology experts, to launch the multi-media experience which took place at Senate House in Russell Square, London, and at the Ventilation Building in Georges Dock, Liverpool two days later.
The projections aimed to capture the spirit of new S-MAX ownership, incorporating imagery from Ford's "Get more out of life" television, online and direct mail advertising campaigns.
Lyn West, advertising and sponsorship manager, Ford of Britain said: "To showcase new Ford S-MAX's cutting-edge technology and innovation, we decided to substitute traditional outdoor media for something a bit different - a really immersive experience using the latest interactive building projection techniques. With themes from our 'Get more out of life' advertising campaign, we've been able to engage with our audience in a new way, and then continue the dialogue through social media channels."
Andy Dibb, creative director, Ogilvy & Mather advertising added: "Working with Ford and our partners Seeper, we feel we've come up with something that breaks the mould of standard car advertising."
Evan Grant, seeper.com said: "The S-MAX ice experience is a ground breaking, theatrical, interactive projection mapping experience. The theme comes to life with theatrical performers, encouraging the audience to interact using a series of custom-designed laser cutters."