Ford Galaxy enters MPG Marathon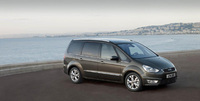 The Ford Galaxy, top people carrier among the UK's chauffeurs and professional drivers, is set to prove its efficiency on this week's MPG Marathon.
Ford Galaxy was declared best MPV by Professional Driver magazine, representing Britain's private hire, chauffeur and limousine businesses.
Announcing the second win in succession for Galaxy, editor Mark Bursa said: "Ford Galaxy seemed unassailable in the MPV category of the Professional Driver Car of the Year awards. A raft of upgrades and improvements this year have made Galaxy more up-market and it drives superbly thanks to an excellent automatic transmission. Galaxy's all-round competence keeps it ahead of the field."
The Ford Galaxy accounts for 60 per cent of large MPVs sold in the UK, outselling its nearest competitor by six to one. Its Professional Driver recognition follows similar success in this year's awards by BusinessCar magazine, which made Galaxy best MPV for the fourth year running.
This week the Galaxy enters the annual MPG Marathon as Ford partners premium minicab fleet Addison Lee for the event running today and tomorrow from Stratford-upon-Avon.
Addison Lee is the UK's biggest Ford Galaxy customer, with over 2,000 on the London company's fleet of 2,500 vehicles.
The firm's driver Dean Coogan and journalist Steve Moody, of Fleet World, will prove out one of Addison Lee's 2.0-litre diesel Ford Galaxy PowerShift autos – with an official fuel economy of 47.1mpg and emissions of 159g CO2/km.