Scania testing boat-tail which can cut fuel consumption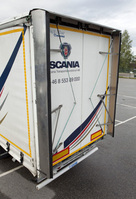 Scania has begun practical tests of a rear air deflector known as a boat-tail, which can reduce fuel consumption by up to two percent, which corresponds to an annual saving of 1,200 litres of fuel and three tonnes of CO2 emissions for a truck running 200,000 km a year.
The boat-tail is mounted on a normal three-axle semitrailer for European long-haulage. The length of the vehicle combination increases by 30 cm, which is equivalent to the extra length permitted for a tail-lift or other loading equipment according to the European Union's Directive 97/27 EC.
"The tests are limited to Sweden and Denmark while we await final word on how road and traffic authorities in the Netherlands and Germany view our interpretation and application of the EU directive," says Anders Gustavsson, Managing Director of Scania Transport Laboratory (Scania Transportlaboratorium AB).
Fuel savings of two percent not only reduce the transport industry's costs but also lead to large environmental gains.
"For the Transport Laboratory trucks, which run 360,000 km per year and consume an average of 26 litres of fuel per 100 km, it represents a annual saving of almost 1,900 litres of diesel and five tonnes of CO2 emissions – per truck. This kind of aerodynamic improvement is positive for industry profitability as well as the environment and is equivalent to the results of several years of engine and chassis development work," Mr Gustavsson says.
A recently introduced EU proposal would amend the current Directive 97/27 EC to allow trailers to be equipped with a rear air deflector that lengths the vehicle combination by 30 cm.
"This is a solution that does not encroach on cargo space and can also be retrofitted on existing trailers. In light of this, I hope that European trailer manufacturers will find it of interest to begin developing an integrated boat-tail. It involves a very simple technical solution that could quickly help reduce transport costs and environmental impact," Mr Gustavsson concludes.
Scania Transport Laboratory is a wholly owned subsidiary of Scania that tests and evaluates vehicle characteristics and performance in commercial road haulage. The company's tasks also include training and coaching its drivers in economical and safe driving techniques. The company accounts for a small portion of the goods haulage to Scania's European production and assembly units. Its fleet consists of 20 tractor units and about 70 semitrailers.