Scania's manual for emergency services now online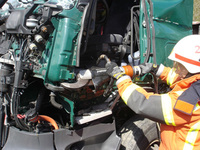 Scania has developed a product information manual that makes it easier for emergency service staff to safely and efficiently rescue people in case of vehicle accidents.
Scania produced the manual in collaboration with emergency service organisations. It contains a presentation of the structures and systems in a Scania truck, as well as instructions on how emergency service staff can rescue the driver and passengers without exposing such people or themselves to unnecessary risks.
"Its purpose is to provide knowledge of Scania's vehicles so that the emergency services can use their methods optimally," explains Bengt Edlund, a process engineer at Scania who helped produce the information material.
The manual is designed to be used in preparatory training. It is available in 17 different languages and can be downloaded as a PDF from scania.com/emergency-services.