Caterham - The magnificent Seven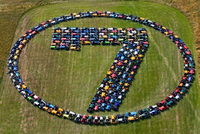 This amazing image of the famous Caterham Seven logo was created by members of the Lotus 7 Club at last weekend's Graham Nearn Memorial Blat.
The 236 Caterham Sevens were arranged in a field at Stow Maries Aerodrome in Essex to celebrate the life of Nearn, the man who is largely credited with saving Colin Chapman's legendary Seven design from obscurity.
Nearn's Caterham Cars business bought the rights to build the Seven after Chapman, then chief designer for Lotus, decided to stop making the car. Mr Nearn passed away last year.
Lotus 7 Club spokesman, Martin Bushaway, said: "It took an awful lot of precision to get the 236 cars in exactly the right position and a lot of patience on the part of our club members. But it's only right that we made sure the resulting image was spot on – Graham would have accepted nothing less."
To find out more about the Lotus 7 Club, please visit lotus7club.com.