Peugeot LCV range gets new Euro 5 engines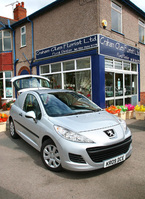 Peugeot will progressively introduce a range of Euro 5 diesel engines across its light commercial vehicle range. Peugeot's popular range of light commercial vehicles not only provides a comprehensive range of payloads but now reduces running costs with the introduction of a range of Euro 5 diesel engines.
Peugeot 207 Van
The Peugeot 207 sees the introduction of two Euro 5 HDi diesel engines into the range. The first is the HDi 70 with CO2 emissions of 110 g/km and the second is the HDi 92 which emits 115g/km. With the introduction of the Euro 5 engines the 1st year VED reduces by £75, compared to the old Euro 4 model, to £125.00 for vehicles registered by the 31st December 2010.
Peugeot Bipper Van
The Peugeot Bipper van is now available with a new 1.3 litre HDi 75 diesel engine and Stop-Start technology. The introduction of this new engine with stop-start, further improves the environmental credibility of the Bipper range, with CO2 emissions of 109 g/km and 68.2 mpg. The introduction of the HDi 75 engine also results in the vehicle's payload increasing from 610 kg to 660 kg.
Further Euro 5 engines will be added to the Peugeot LCV range over the course of the next twelve months.