Next-generation Ford Focus gears up for launch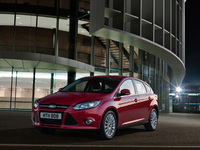 The exciting new next-generation Ford Focus is gearing up for its sales launch early in 2011, with the core three-model line-up seen together for the first time at the 2010 Paris Motor Show.
The sporty five-door hatchback and stylish five-door wagon Focus models take centre stage on the Ford stand, revealed in full detail ahead of the production start in Europe and North America in late 2010.
Focus is Ford's most significant nameplate globally. With over 10 million examples sold since its launch in 1998, the Ford Focus has become a firm favourite with consumers worldwide for its outstanding value, comfort and safety, and above all, for being great fun to drive.
Following an unprecedented global development program under the company's ONE Ford strategy, the next-generation Focus is set to continue the successful tradition of its predecessors and demonstrates how Ford is changing.
Distinguished by its sleek and sporty design, the new Focus is packed with more affordable technologies and features than ever before in this segment. The next-generation Focus also offers customers the highest standards of quality and detailed craftsmanship, outstanding fuel economy, and takes the legendary Focus driving dynamics to a new level.
"The new Focus truly represents the best of Ford Motor Company, and we are excited that the first vehicles will be in customers' hands very soon," said Derrick Kuzak, Ford's group vice president of Product Development. "The investment in our new C-car platform has enabled us to provide global consumers with an affordable product which offers quality, fuel efficiency, safety and technology beyond their expectations."