Ford Focus ST makes global debut at Paris Motor Show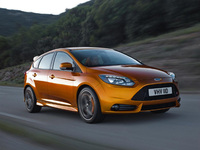 The exciting next-generation Ford Focus ST makes its global debut at the 2010 Paris Motor Show, providing an early preview of the new high-performance model which will be introduced around the world in 2012.
Ford's first global high performance model and a star attraction for Ford in Paris, the powerful new Focus ST show car was revealed today by Alan Mulally, Ford's president and CEO, and Stephen Odell, chairman and CEO, Ford of Europe.
This range-topping Focus will be completely true to Ford's ST model heritage, offering driving enthusiasts an intoxicating cocktail of exhilarating performance and handling, an addictive sound and muscular sports design.
"The ST will be the performance flagship of our new Focus range, and we are excited to provide our enthusiast customers with an early preview in Paris," said Gunnar Herrmann, Ford Motor Company's global C car vehicle line director. "The ST represents an ultimate expression of Focus driving quality and performance and we are confident that the new model will strengthen the reputation of Ford's ST heritage among enthusiast drivers and attract new fans as well."