An insider's guide to London Fashion Weekend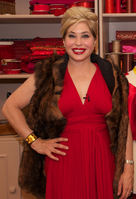 Fashion is close to every woman's heart and with the new Autumn/Winter trends of 2010 hitting the catwalks and shops as we speak there really is no better reason for a bit of a shopping spree.
But before you grab your purse and head for the high street you might want to get the lowdown on what's hot with tips from the top.
Fashion stylist Brix Smith-Start makes sure she's always bang on trend, so there really is no better person to take us behind the scenes at London Fashion Weekend.
In the following video, Brix in conjunction with Kellogg's Special K give us an exclusive backstage pass into the fast paced world of fashion. From the couture to hair and makeup styles, she has badgered designers and models to get tips on the key trends and how to replicate them in your own wardrobe.
So what are you waiting for? Grab the notepad, watch the video and get shopping!
For more information visit: specialk.co.uk