Ford C-MAX plug-in hybrid to use powersplit system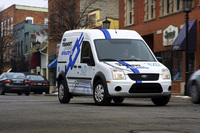 The drive toward broad commercialisation of low-emission, fuel-efficient electrified vehicles is gaining ground as Ford Motor Company confirmed today it is on track to deliver five electrified vehicles for launch in North America by 2012 and European markets by 2013.
Ford's commitment to extend its global electrified vehicles strategy will see the introduction of a full battery-electric Ford Transit Connect in 2011, and a battery-electric derivative of thenext-generation Ford Focus, due in 2012.
Ford's Valencia Plant in Spain will build the company's first hybrid models for European customers with two advanced technology derivatives of the all-new five-seat Ford C-MAX compact multi-activity model to be launched in 2013 – a full hybrid electric vehicle (HEV) and a plug-in hybrid electric vehicle (PHEV). The fifth vehicle will also be a next-generation hybrid-electric model and will be announced at a later time.
"Our plan to deliver five electrified Ford vehicles as promised is well underway, which is great news for our customers both here in Europe and in North America," said Stephen Odell, chairman and CEO of Ford of Europe today at the 2010 Paris Motor Show. "The new advanced powertrain technologies we are applying progressively across our entire portfolio further strengthen Ford's commitment to delivering significant fuel economy improvements and reduced CO2 emissions to meet our customers' functional needs without compromising their driving experience."
While North America continues to be the dominant market for hybrid sales, European interest in the segment is rising. According to R.L. Polk & Company, a leading auto industry market research firm,European hybrid vehicle sales are projected to double between 2010 and 2012. Other researchers project worldwide hybrid sales to top 6 million units per year by 2020, with the volume leaders being the U.S., Europe and China.
"Due to the increasing customer interest in Europe for electrified versions of our vehicles, we are stepping up our efforts to bring these models to market alongside our latest-generation, fuel-efficient EcoBoost™ petrol and Duratorq diesel models," Odell added. "European consumers soon will have an even greater range of electric alternatives from Ford."
New C-MAX HEV and PHEV: The powersplit and plug-in advantages
The upcoming new Ford C-MAX PHEV and HEV models, like the company's next-generation hybrids, will use the company's critically acclaimed powersplit architecture with a high-efficiency Atkinson-cycle engine in combination with a high-voltage electric traction motor generator and a lithium-ion battery system.
In a powersplit hybrid, the electric motor and gas-powered engine can work together or separately to maximize efficiency. The engine also can operate independently of vehicle speed, charging the batteries or providing power to the wheels as needed. The motor alone can provide sufficient power to the wheels in low-speed, low-load conditions, and work with the engine at higher speeds. As a result, the current-generation Fusion Hybrid can operate in gas-saving electric mode up to 47 mph under certain conditions for short distances.
Comparatively, Ford's future plug-in hybrid is being designed to operate in electric mode at even higher speeds than the current generation. The plug-in hybrid will stretch its fuel efficiency further than a hybrid by enabling the user to recharge the lithium-ion battery by plugging the vehicle into the electrical grid. As a result, plug-in hybrids have more battery energy to draw upon and can go further without using the gas-powered engine.
Plug-in hybrid users will want to recharge their vehicles overnight, because the cost of electricity is typically lower during off-peak hours. While a plug-in hybrid does not need to be plugged in to operate due to its petrol engine backup, it is designed to operate most efficiently when the battery has been fully charged.
On startup, Ford's future plug-in hybrid will operate in charge-depletion mode. When the battery has been depleted or certain conditions are met, it switches to charge-sustaining hybrid mode for continued optimal fuel efficiency. After the battery is depleted, the vehicle will drive like a regular hybrid electric vehicle.
"A plug-in hybrid owner will make fewer trips to the pump to refuel, because of its all-electric mode capability," said Lisa Drake, chief engineer for Ford's Global Hybrid and Battery Electric Vehicle programs. "They'll be able to conveniently recharge their plug-in hybrid at home overnight. And they'll never have to think about the vehicle's electric range, because the plug-in hybrid seamlessly shifts to gas when needed."
The eco-friendly alternatives: all-electric Focus and Transit Connect models
Ford's future all-electric vehicles – Transit Connect Electric and Focus Electric – offer yet another means for eco-friendly driving, this time without a fuel tank.
Vehicle users will have the option of recharging Transit Connect Electric and Focus Electric with either a standard 240V or 120V charge station for optimal recharging. The vehicles will come with a transportable cord for remote recharging.
A battery electric vehicle's onboard lithium-ion battery pack is charged by connecting the charge port to a power outlet. Inside the vehicle, an onboard charger converts the AC power from the electric grid to DC power to charge the battery pack.
Ford's battery electric vehicles are expected to offer fleet customers lower cost of operation, because recharging with electricity is generally less expensive than refueling with petrol. Users may also benefit from much lower maintenance costs over the life of the vehicle.
The development of Ford's battery electric and plug-in hybrid technologies leverages nearly 200,000 miles of road testing conducted in collaboration with a coalition of 10 utilities, the U.S. Department of Energy, the New York State Energy Research and Development Administration and the Electric Power Research Institute.
In the United Kingdom, Ford is working with Scottish and Southern Energy and Strathclyde University on the UK Low Carbon Vehicle Fleet program to demonstrate a fleet of 21 prototype electric vehicles and collect data on their performance.
In Germany, Ford is working with RheinEnergie AG, the city of Cologne and the University of Duisburg-Essen on the ColognE-mobile program, using a fleet of 25 electric vehicles to conduct road testing. The program is part of a much larger research effort in several cities in Germany involving multiple automakers, utility companies, universities and technology partners.
Proven performance
Ford's next-generation hybrid, plug-in hybrid and all-electric vehicles will build on its considerable success in North America with the Fusion Hybrid and Escape Hybrid – America's most fuel-efficient midsize car and most fuel-efficient SUV, respectively.

Ford has more than 140,000 hybrid vehicles on the road to date, including hybrid versions of Mercury Milan and Mariner. The 2011 Lincoln MKZ Hybrid joins the North American lineup this fall and is the most fuel-efficient luxury sedan in America.
"We know that one technology does not work for all customers – hybrids, plug-in hybrids and pure electric vehicles each offer distinctly different advantages," said Derrick Kuzak, Ford's group vice president of Global Product Development. "By leveraging our global platforms, we are able to offer our customer a range of solutions as part of a strong product lineup."
Ford is designing its hybrid and electric vehicles to provide outstanding fuel efficiency with no-compromise driving enjoyment. Smooth regenerative braking, confident acceleration, a comfortable interior and smart driver information features have helped earn the North American Ford Fusion Hybrid the 2010 MOTOR TREND Car of the Year award and a place on numerous best "green" car lists.
"We expect our upcoming plug-in hybrid and all-electric vehicles to drive like real cars because they're based on real cars," said Nancy Gioia, Ford director of Global Electrification. "They share many of the same quality components as their petrol- and diesel-powered counterparts, while delivering superior fuel economy and no-compromise driving enjoyment."