Northamptonshire's new Scania fire appliances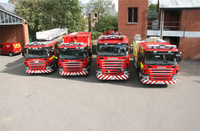 Four new Scania vehicles have entered service with Northamptonshire County Council Fire and Rescue Service, meaning that all front-line heavy fire appliances in the Service's fleet are now based on Scania chassis. Delivered by TruckEast, the Scania dealer for Northamptonshire, the northern Home Counties and East Anglia, the latest four vehicles are:
A Scania P 310 DB6x2*4MNB CP16 Hookloader Equipped with a rear-steering axle for maximum manoeuvrability, this truck has been designed to carry incident pods to and from the scenes of incidents.
A Scania P 280 DB4x2MNA CP28 Pumping Appliance with 'Type B' water tender bodywork. (The vehicle being displayed forms part of an order for three similar appliances).
A Scania P 340 DB6x2*4MNA CP28 Combined Aerial Rescue Platform (CARP). In addition to bodywork and pumping equipment by JDC, this vehicle features a Vema Aerial Rescue Platform. In common with the hookloader, this vehicle has a steering rear-axle for maximum manoeuvrability.

A Scania R 340 DB4x2MNA CR19 Emergency Rescue Tender Equipped with Rescue-Master heavy-duty winching equipment and a Hiab truck-mounted crane for emergency rescue and recovery operations.
Commenting on the delivery, TruckEast's Sales Director, David Hall, said: "It is more than 20 years since the first Scania appliance was delivered into the county and we are delighted that our relationship has developed to the point where the entire heavy appliance fleet now carries the Scania marque. Going forward, our pledge is to continue providing the high levels of service that Northamptonshire Fire and Rescue Service demands of us, and we look forward to many more years of successful partnership between our two organisations."
Northamptonshire Chief Fire Officer Martyn Emberson said, "The service we provide to the people of Northamptonshire is reliant on the vehicles in our fleet. Our fire crews need access to well equipped vehicles to enable them to deal with the range of incidents they respond to every day. Northamptonshire Fire and Rescue Service is pleased to be continuing the partnership established with Scania and TruckEast."
Councillor André González De Savage, the Northamptonshire County Council Cabinet Member for Customers and Communities said: "Our Fire and Rescue Service is absolutely committed to protecting the people, property and environment of Northamptonshire and the addition of these new vehicles to the fleet will help them to deliver this service even more effectively, as well as helping to ensure the safety and wellbeing of our firefighters."