International singer tours Europe with Fiat 500C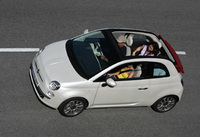 An internationally renowned singer-songwriter is undertaking a European concert tour, using three Fiat 500C convertible city cars as his transport.
Israeli-born Yoav Sadan launched his road trip, called Escape Plan 500C, on 20 September and has so far visited 18 major cities in 10 countries, including Milan, Paris, Lausanne, Munich, Copenhagen, Brussels and Berlin.
And this Friday (8 October) the guitarist ends the tour at London's Monto Water Rats Theatre, for a sell-out night to bring his popular acoustic music to British fans.
A critically acclaimed recording artist, Yoav is particularly admired across Europe, Canada and South Africa, where he was brought up. His whistle stop tour of Europe in the Fiat 500C has caught the imagination of his internet followers.
On his website (yoavmusic.com) Yoav tells fans: "I'm embarking on a massive road trip mission. I'm picking up three Fiat 500s and driving across Europe. We've just discovered that all my equipment fits in this tiny little car – and I fit in the trunk!"
Fiat Group Automobiles UK's involvement is just one of many music-related projects being undertaken by the company, following the huge success of the Punto Evo Music Rooms in April this year and sponsorship of the new Faithless single Feelin Good this summer. In March the Fiat 500C Feelgood Playlist – which allowed owners to share favourite tracks, won a top innovation award.
"Yoav has a wonderful following here in the UK and we are delighted to help bring him to British fans," says Elena Bernardelli, marketing director, Fiat Group Automobiles UK and Ireland. "The Fiat 500C makes a perfect touring car for Yoav – especially if the weather is fine, when he can roll the roof back and enjoy the last of any good weather as he makes his way to the next concert."
Launched in July 2009, the Fiat 500C is available with a choice of three Euro 5-specification engines – 1.2-litre and 1.4-litre 16v petrol, and 1.3-litre 16v MultiJet diesel. Prices start at £12,465 OTR for the 1.2 Pop.