Win for Bodrum's Horizon Sky in International Property Awards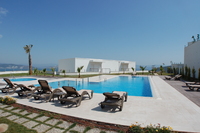 Having created without doubt the best and most talked about private beach resort in Turkey, the developers of Horizon Sky are thrilled to have been acknowledged with Best Development Turkey – Highly Commended in the International Property Awards in association with Bloomberg Television.
Daniel Dias for developer Signature International comments, "We've gone to extreme lengths to make Horizon Sky the finest resort possible. We hand-picked a beautiful bay-front location, hired Istanbul's star contemporary architect and put together a blueprint for a spectacular leisure paradise from which to enjoy a millionaire's lifestyle at a fraction of the price. And, by building in joint venture with UK-based developers Galliard Homes, we know that Horizon Sky has the highest specification and workmanship ever seen in a residential resort in Turkey. This Award commends our whole team for their dedicated hard work and serves as independent recognition of the quality, professionalism and value for money we provide at Horizon Sky. We're absolutely delighted."
Held at London's Park Lane Hotel, the ceremony on 24 September gathered together leading agents, developers, architects and designers from across Africa and Europe eager to hear the results of the industry's most prestigious Awards established 16 years ago. This year's Awards were held in association with Bloomberg Television with Maryam Nemazee, political, business and economic news anchor, and Dina Najia, Bloomberg Television's Head of Marketing, both taking part in the ceremony.
About Horizon Sky
Some 35 minutes from Bodrum, on the sundrenched slopes of the Bay of Güllük dipping into the Aegean Sea, Horizon Sky is an upscale community of apartments, penthouses and villas – all with private gardens or terraces. It's the first resort in the area to feature an American-style Country Clubhouse which flanks a private beach. This facility houses a rooftop restaurant, sports bar and café, fitness suite, Spa, heated indoor and two outdoor pools. Meanwhile mini golf, several tennis courts, a grocery store, 11 more swimming pools and various Mexican, water and Japanese relaxation gardens are scattered throughout the resort.
A jetty and private water-taxi are in operation to deliver residents and guests across the Bay to Güllük town, which is a swift ten-minute drive from the International Airport, whilst plans are going through the approval process for an 80-berth marina. This asset will further enhance the investment and rental potential of Horizon Sky. An on-site reception and concierge alongside a rental management office are also on hand to maximize occupancy throughout the year.
Prices at Horizon Sky start from €98,000 euros (approx. £84,272GBP) for an 87m² duplex two bedroom apartment. Customers can name a deposit from 20%, name their preferred term (from five to ten years) and Horizon Sky will adapt a plan to suit. Monthly payments can be increased or decreased as necessary, as much as 45% can be delayed for five years or the entire amount can be paid off early. The developer is also offering ten-year finance plans at a rate of 4.9% interest, around 2% below a Turkish mortgage rate.
Horizon Sky – Highly Commended for 'Best Development Turkey' in the 2010 International Property Awards held in association with Bloomberg Television.
For more information, visit signatureinternational.co.uk.