Vote-o-cross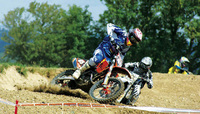 Express Insurance's photography competition draws to a close. The quest to find Britain's best motocross picture is heading to the finish line as submissions for entries have closed and it is now down to the voting public to choose the final shots.
With over 600 photos entered, the tension is growing as motocross fans are encouraged to choose their favourite from the vast array of fan photography spanning the wild and wacky through to artistic and emotive and not forgetting the downright cheeky!
To vote, simply become a fan of the Express Insurance Facebook site facebook.com/ExpressInsuranceUK , click through to the photo section and select your favourite from the Moto-X images by clicking 'Like' on the image you feel is best.
The final deadline to cast your vote is the 25th October and the overall winner will receive £250 worth of KTM gear plus an exclusive one-to-one photography lesson with renowned motocross photographer, and one of the judges of the competition, Ray Archer.
Ray Archer, who has the task of choosing five of the final entries is keen to find the country's most talented motocross photographer and commented: "Motocross is so varied and interesting to capture on film and it is great to see such a huge variety of exciting pictures. There is real quality amongst the entries and it will clearly be a very difficult competition to judge."