Scania at EuroBus Expo 2010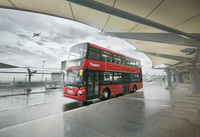 Scania will be exhibiting three passenger carrying vehicles, including a Limited Edition Scania Irizar PB 'Sesenta' luxury touring coach, on its stand (A10, Hall 5) at EuroBus Expo 2010 (2-4 November, National Exhibition Centre, Birmingham).
In addition, representatives of Scania Finance and the Scania UK Training Centre will be in attendance providing information and advice on the range of products and services they offer today.
The vehicle exhibits comprise:
Scania OmniCity double-decker bus
A Scania CN 230 UD 4x2 chassis equipped with a nine-litre 230 horsepower Scania DC9-30 Euro 5 EGR, EEV engine and a ZF 6HP504C fully automatic six-speed gearbox. This vehicle features 10.7-metre Scania OmniCity double-deck bus bodywork built to UK provincial specification with 74 fixed seats and two tip-up DDA/pushchair seats.
Scania OmniExpress 36
A Scania K 360 EB4x2 chassis with a 360 horsepower nine-litre Scania DC9-24 Euro 5 EGR, EEV engine and a clutchless Scania Opticruise eight-speed fully automated gearbox. Equipped with Scania OmniExpress 36 12.8-metre bodywork, this vehicle has 53 reclining seats, an offside-rear surface-mounted toilet/washroom, tinted and double glazed saloon windows, climate controlled air conditioning, a courier seat, an A&D hot water dispenser and a Blaupunkt Professional Line Audio and DVD system with two LCD monitors.
Scania Irizar PB – Limited Edition 'Sesenta' model
A Scania K 400 EB6x2*4 rear-steer chassis, with Scania's 13-litre 400 horsepower DC13-05 Euro 5 EGR engine and clutchless Scania Opticruise eight-speed fully automated gearbox. This vehicle is equipped with Irizar PB 13.9-metre bodywork built to the Limited Edition 'Sesenta' specification. This includes 57 reclining seats with moquette and leather trim, leather driver and courier seats, centre sunken toilet/washroom with electric hand drier, Blaupunkt Professional Line Audio / DVD system with two monitors, LED reading lights, extra tinted, double glazed windows to the saloon area and rear reversing sensors.
Scania Finance
Scania Financial Services provides a range of flexible services designed to give operators predictable costs and manageable risks – over the entire life cycle of their vehicles. At EuroBus Expo 2010, Scania Financial Services' team of industry specialists will be providing advice on Scania's all-inclusive, competitive financing and insurance solutions. In every case, Scania Financial Services seeks to create bespoke solutions to meet specific needs and to develop payment plans which reduce the overall cost of operation while minimising expenditure.
Scania UK Training Centre
Scania has invested heavily in a state-of-the-art training centre to support operators by providing a constant stream of highly skilled aftersales professionals. Dedicated to excellence and personal development, the centre is the largest of its kind in the UK and is fully equipped to meet every training need. At EuroBus Expo 2010, representatives of the Centre will be on hand to discuss the courses on offer, which range from Apprenticeships to Scania Master Technician, plus a modular range of component-specific courses. Furthermore, all courses can be tailor-made depending on the requirements of a particular individual, organisation or transport operation, assuring the most appropriate and cost-effective training every time.