Turkey's economy shows rapid growth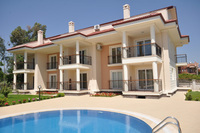 The Turkish General Directorate of Land Registry has released figures showing 32,000 UK buyers investing in Turkish property. "These figures are remarkable and very exciting for the future of Turkey and those who invest in her", says Suleyman Akbay of Oceanwide Properties, experts in Turkish homes.
The Turkish Government is actively promoting foreign investment by concentrating their energies and money on the infrastructure including roads and airports with a view to future admission into the EU.
Added Suleyman, "There are many advantages to purchasing a property in Turkey, including the fact that there aren't any capital gains taxes to be paid, if the property is owned for over five years. Recently approved new mortgage laws to make it easier to purchase and of course prices of homes are extraordinarily low compared like for like with many other European countries. All of which is creating a boom time in the property market. Buyers looking for somewhere to retire, holiday home, or investment should seriously consider Turkey as a safe investment country and with a promise of an even greater future".
British retailer Tesco will continue its investments in the Turkish retail sector and German fast food chain Hoons has announced its entry to Turkey with a three-year investment plan, involving 50 restaurants and 1,000 new jobs.
Concluded Suleyman, "Turkey is now becoming a highly desirable place in which to invest. With average price increases between 12 % and 30% depending on the region, this is a good place in which to take a foothold."
Currently available through Oceanwide Properties:-
Calis, Nr Fethiye, Mediterranean coast, Turkey (ref 1678323)
Two bedroom, ground floor apartment with open plan fitted kitchen and lounge plus balcony where there is a built in BBQ. Walking distance of Calis beach, restaurants and bars. Bus service every 10 minutes.
Calis has promenade for strolling to Fethiye or the larger neighboring resort can be reached by 30 minutes water taxi ride. Calis is a growing resort with excellent investment potential. Area is fairly flat so ideal for those with mobility problems thus it has attracted a lot of ex-pats. Nature reserve. State of the Art Government hospital.
Price £54,000
Calis, Nr Fethiye, Turkey (ref 1705566)
Stylish development of 20 luxury apartments with communal pool, gym and sauna. Highly sought after location just a few minutes' walk from resort centre. Mountain views and set in landscaped gardens. Contemporary design. Choice of two bedrooms apartments or three bedroom duplexes.
Ideal for permanent residence, holiday retreat or rental investment with regular bus service to Fethiye, Aqua park, and supermarket.
Prices from £63,000
For more information, visit oceanwideproperties.co.uk.