Leading Turkish property developer opens arms to UK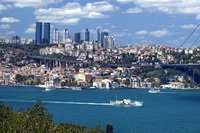 Soyak, one of the largest residential real estate developer in Turkey is utilising Spot Blue, the expert Turkish agency, to bring their Istanbul developments to an international market. After the recent announcement by Moody's to upgrade the economic status of this 'robust' country from stable to positive, now is the prime time for this Top 500 Turkish company to move beyond the local markets.
Soyak's reputation and the demand for their properties by the domestic Turkish market is such that it offers UK and international buyers an incredible opportunity with this developer to invest into the growth market of Istanbul and Turkey. For every property that Soyak builds there are 20 people enquiring for ownership, so where does the international buyer fit in? Despite the domestic market's high demand for properties there are many local buyers who prefer turnkey homes allowing the opportunity for international investors to step into this hungry market.
Turkey's reputation has grown considerably over recent years, the currency (Lira) is more stable than it's ever been, the country boasts a solid banking system and robust public finances and at a time when some members of the Organization for Economic Co-operation and Development (OECD) are facing financial difficulties, Turkey has been praised for its economic stability.
The credit rating agencies have backed this seemingly unstoppable Eurasian force with two upgrades already during the global economic crisis with another expected from Standard & Poor in the near future. With a rating of Ba2 and double digit economic growth for the second quarter of 2010, making it the world's third fastest growing economy for April - June, behind only Singapore and Taiwan, futher upgrades to investment status is almost a certainty.
Beyond the real estate sector big brands are investing in the country, Bosch has announced plans to invest EUR 100 million this year in new technologies; Italian tyre manufacturer Pirelli, with an annual turnover of EUR 40 billion, is celebrating its 50th year in Turkey and has announced that it will be producing the Formula One racing tyres in their Izmir plant. German drugstore chain Rossman, who enjoyed sales of EUR 2.9 billion in 2009, has just entered the Turkish market and plans 250 stores by 2015. And the Brits are getting a piece of the action too from the globally recognized brands of Vodaphone, Tesco and HSBC to Black Stone who are spending USD 200 million building a cement factory on the Turkish Black Sea coast. Further to these current collaborations, David Cameron on his official visit to Turkey in July, praised the Turkish economy stating that "Turkey is Europe's BRIC" (referring to the four leading emerging nations Brazil, Russia, India and China) and called for increased trade ties with the UK.
But it is the construction industry that is leading the way in the economic revolution, this sector posted a 21.9% growth in the second quarter of 2010. And it is the tangible asset of property that gets the British investor juices going. However, many British investors have been hurt in the downturn so as well as the numbers adding up on an investment, they need to know they can trust the developer.
Julian Walker, MD of Spot Blue comments, "Soyak is obviously a very serious option for any property investor and we are delighted to offer their latest Istanbul development to the British market. Sorak are one of the most respected companies in the industry having been in operation since 1961. In 2009 they held total assets of USD 800 million and ticks the box for financial credentials. In all Soyak sold over 50,000 housing units and now the British investors have the opportunity to purchase their piece of the growth market of Turkey with a developer they can rely on."
Halkali is one of Istanbul's emerging residential areas and it is in this cherry picked location that Soyak are launching a development of 2,000 high rise studios, one, two and three bedroom units with facilities including; tennis, volleyball, basketball courts- a fitness centre, children's playground, 24 hour security and swimming pools. Prices start at £45,000 (€52,187) to £200,000.
Walker continues, "Halkali Soyak is an outstanding investment opportunity with such a reputable developer, the properties are built to high standards and the increasing demand from the local market provides an exit strategy. 70% off plan mortgages are also available with only £1000 deposit. With the current buzz in Turkey from global corporations down to the property investor, we certainly don't expect these properties to be on the market long."
For more information on investing in the cosmopolitan city of Istanbul with Soyak developers, visit spotblue.co.uk.