Mitsubishi awarded preferred supplier of 4x4's to UK Police Forces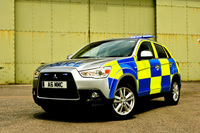 Mitsubishi Motors has announced that they have been successful in the supply of 4x4 vehicles to the blue light marketplace by the National Policing Improvement Agency and the National Association of Police Fleet Managers.
The choice list within the 4x4 category will include the legendary Shogun and the versatile L200 range, both models of which are now amongst the best in class for tailpipe emissions. In addition to the larger 4x4s, the economical Outlander and new compact crossover ASX will also be available offering the best possible choice of practical and environmentally responsible cars with a great on-road presence.
Mitsubishi has been supplying vehicles to the UK's police forces since the turn of the decade and vehicles such as Shogun and L200 have developed a strong pedigree for a variety of operational uses in the specialist arena.
Mitsubishi Specialist Vehicle Operations
The Mitsubishi Specialist Vehicle Operation Centre (MSVO), based in the Cotswolds, offers a 'one-stop-shop' and provides a unique and individual cradle-to-grave service equipping vehicles to a high standard but at the same time simplifies the customer's supply chain process, cuts costs and reduces lead times.
Mitsubishi has considerable experience in offering class-leading sales and after-sales support to the blue light market place. Their understanding of the operational needs of the Police market structure and flexible attitude means that they are ideally positioned to find the right solution for specialist vehicle requirements.
Servicing and After Sales
All Mitsubishi vehicles are supplied with a 3-year/unlimited mileage warranty together with a pan-European roadside assistance package, except LCV's which are limited to 100,000 miles. The standard Mitsubishi warranty also covers all conversion work undertaken at MSVO for a 3 year period. Blue light users are also offered an attractive in-house warranty package to ensure that vehicle down time is kept to a minimum.
The Complete Package
Mitsubishi Motors offer an excellent 'specialist vehicle' proposition including competitive pricing, outstanding reliability and excellent performance. In addition, their turnkey solution and in-house warranty provides a 'hassle free' procurement, keeping costs down and vehicles on the road.