Ford holds first global test drive of all-new Ford Focus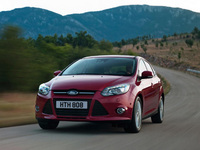 In the Ford Focus Global Test Drive, everyone wins: Ford Focus engineers get rapid feedback from interested customers and prospects, drivers get a first look and thrilling international wheel time in Ford's breakthrough new Focus before it goes on sale, friends get to come along for the ride of a lifetime and deserving charities benefit.
Focus Global Test Drive will be held in early 2011 in southern Europe – the location will be confirmed next month. Driving exercises will be created to give participants an early, behind-the-scenes look at the new Ford Focus, and will allow them to enjoy a few high-speed, high-adventure activities. Participants will be free to document and share their experiences.
Beginning today, via the Focus Facebook page, friends and fans from around the world are invited to submit video applications explaining why they should be included in the first-ever Focus Global Test Drive.
The application process invites prospective test drivers to "start more than a car" by providing the market equivalent of $10,000 for a charity they are passionate about, under the categories of hunger, education and environment/sustainability.
Details of the Global Test Drive application are now available on the "Global Drive" tab at facebook.com/fordfocus. A total of 100 participants from around the world will be selected to travel to Europe to be among the first external test drivers of Ford's all-new, next-generation Focus.
Focus Global Test Drive participants will be selected based on a range of criteria including their individual creative content, social networking vibrancy and volume of votes they receive.
With a total of up to $500,000 to be distributed across driver-preferred charities, participants will have the opportunity to "start more than a car". Ford gets some early feedback on a critical new global vehicle while drivers and their guests will savor an exhilarating international experience, and charitable organisations will benefit.
All-new Ford Focus
The all-new Ford Focus is the result of a global product development program bringing together Ford's best engineers and technology from around the world. The new Focus will be nearly identical in all 122 world markets in which it will eventually be sold, with 80 per cent parts commonality. Focus will be manufactured in Ford plants around the world, from Asia to Europe to North America. Rollout of the all-new Ford Focus will begin in early 2011.