Yamaha Worldcrosser concept at Motorcycle Live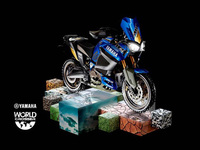 Yamaha will be showing their whole range of scooters, motorcycles and off-road models, at Motorcycle Live at the NEC, Birmingham, 27th November to 5th December. Amongst the comprehensive line-up of models will be Yamaha's unique concept adventurer, the Worldcrosser.
Created by Yamaha to accentuate the brand's adventuring and rally-raiding heritage, the new Worldcrosser concept bike takes the adventure segment one stage further.
Based on the XT1200Z Super Ténéré, the Worldcrosser shows globetrotting explorers a new way to travel around the world. Fully-equipped and with a performance focus, the machine includes an exclusive range of lightweight chassis components, making this high-specification machine perfect for adventurous riders who want a supremely capable motorcycle for a tough global challenge.
By creating the Worldcrosser concept model, Yamaha has underlined the true spirit of the Super Ténéré. With the addition of a few specialist components and the replacement of some of the standard parts, this rugged adventure bike is ready for the most exciting off-road adventure.
The Yamaha Worldcrosser is a concept bike to inspire adventure world travelers and will not go into production.