Yamaha auction collectables for Africa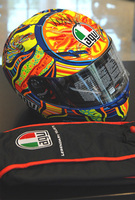 Would you like to be the exclusive owner of a Valentino Rossi helmet signed by the Doctor himself? Ever dreamed of having James Toseland's BKS race suit in your wardrobe? Fancy a unique Philippaerts race shirt? Yamaha Racing is giving you the chance right now to lay your hands on these unique racing items!
From October 2010 to February 2011 a series of online (eBay) auctions of unique racing collectables will be offered through the official Yamaha Racing Facebook page, all proceeds going to the charity organisation Riders for Health. This organisation has established an infrastructure for managing and maintaining vehicles, particularly motorcycles, used for health care delivery so that even the most remote communities in rural Africa can be reached on a regular basis. Sadly, millions of people across Africa remain deprived and isolated from basic healthcare due to distance, terrain, poverty and lack of transportation and Riders for Health offers transport, skills and expertise to improve this situation. Through bidding on the Yamaha Racing items you will be supporting a specific project in Zambia as 100% of the winning bid will be automatically transferred to Riders for Health.
The auctions are handled by Yamaha Motor Europe but are only available only to UK residents and all items under the hammer come with a certificate of authenticity. You can see what current items are being auctioned at facebook.com/yamaharacingcom (click the 'eBay Items' tab). In May this year, Yamaha organised a 'Ride for Life' adventure raid in co-operation with Riders for Health, bringing 5 Yamaha XT1200Z Super Ténérés to Africa to be used by medical support staff. Yamaha has decided to support the charity on a continuous basis in various ways and particularly through these auctions. Of course successful bidders will be delighted with their winnings, whilst Riders for Health benefit directly.
For more information on Riders for Health, visit riders.org and to know more about the Ride for Life raid, go to rideforlife.super-tenere.com.