Young shooter wins Mitsubishi L200 Barbarian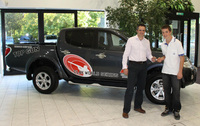 15 year old Adam Ewens collects his winning prize from Toby Marshall (Director of Sales and Marketing) at Mitsubishi Motors UK Head Office after coming 'top' shooter at the Mitsubishi Motors World Series Clay Shooting Championship 2010.
Now in its 28th year, the Midland Game Fair is an established event in the clay shooting calendar and is a true celebration of the country life. This year's event saw plenty of exciting action as competitors fought it out to win the prestigious title and the possibility to walk away with a brand new L200 Barbarian - an extremely spectacular end to a gripping season of championship action.
Storming his way to the final, after only starting shooting 16 months ago and having no previous experience in the sport, Adam Ewens has proven that age is certainly no barrier when competing in such a prestigious event by winning the Mitsubishi Motors competition title and walking away with the £25,000 L200 Barbarian as top prize.
Adam's future within the sport is very exciting for all of those involved in the field. Adam has now placed himself amongst some of the finest shooters in the country and has carved a possible future at a professional level too. Although modest and very unassuming, his sights are set firmly high for the 2016 or 2020 Olympics and with a natural flare and talent who knows where his career path will take him.
Countryman Fairs organise 5 award-winning events across the UK throughout the year. The next Midland Game Fair is due to take place on the 17th and 18th September 2011 for more information please go to countrymanfairs.co.uk.