Business need not go down the tube with strike action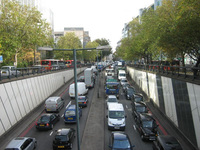 Traffic misery as a consequence of London's third tube strike in as many months need not put a dampener on business fleets.
Information received from TomTom's High Definition (HD) Traffic Centre, a live traffic service updated every two minutes, showed that on 4th October (the day of the last tube strike) there was an additional 491 miles worth of traffic jams at 9am in the morning, compared with the following Tuesday when no strike happened. These additional jams were mainly around London.
With similar disruption expected in the Capital today, the value of sat navs with routing linked to HD Traffic is clear, but as part of its Traffic Manifesto, it's not only TomTom subscribers who can benefit from the technology. TomTom's ambitious plan to reduce congestion for all road users means the information is available to all via the TomTom web site (tomtom.com/routeplanner) and via specially installed screen in fuel stations across the UK, including in London.
"Congestion, such as that experienced by many road users around London today, cannot be entirely eradicated, but by using TomTom's HD Traffic system, it can certainly be eased," said Giles Margerison, Sales Director, TomTom Business Solutions. "Those drivers using TomTom units equipped with HD Traffic typically spend 15% less time in congestion than those who haven't used the service. But if 10% of the UK's motorists took advantage of HD Traffic, we estimate all road users would experience a 5% reduction in time spent in congestion thanks to the cumulative effects of diverting away from the traffic hot spots."
More details on the Traffic Manifesto can be found on tomtom.com/trafficmanifesto
TomTom HD Traffic is available on the TomTom LIVE range of satellite navigation devices and PRO Business Solutions devices.