Launching a Small Business Delivery Service: How to Increase Profits with Delivery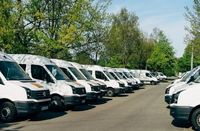 Launching a delivery service for your small business can be a great way to expand your reach and serve more customers. Home delivery has become an increasingly popular way of shopping, and many want to see more delivery options from local businesses.
If you're an entrepreneur, starting a delivery service can be tempting. Here's what you need to know to make sure your delivery service gets off to the right start and that you can make sure your efforts are profitable.
#1 Find a Used Cargo Van
First things first, you need a vehicle for your business that can handle deliveries. Finding a used cargo van for sale can be an economical way to get your delivery business started.
There are some great budget options out there. Keep in mind that cargo vans are popular with small businesses, and that means that the cheapest vehicles can come with a lot of mileage on them. Make sure you find out everything you can about the vehicle's maintenance history to get a good bargain.
#2 Determine Your Delivery Area
Setting up a delivery area can make or break the success of your delivery service. Make it too small, and you risk not generating enough new interest for your business. Make it too large, and you risk wasting too much time on the road and traveling too far between drop-offs to make it profitable.
You can also create delivery zones that incur different fees. The farther away from your base of operations, the more expensive delivery is, paying for the added cost of time and gas. This way, highly-motivated customers can still access delivery services.
#3 Be Realistic About Your Delivery Schedule
There is nothing worse than a customer mad that they still haven't received their delivery. People plan on getting their orders when they're told to expect them, so you're not doing yourself any favors if you over-promise on your delivery turnaround. Whether they're pre-ordering meals or shopping for gifts, timing is everything for your customers.
Consider how much time you or your staff are going to have to drive around fulfilling orders. You still have to keep up with all of your usual business in addition to deliveries, and there are only so many hours in a day.
#4 Customers Expect Perfection
When you start delivering your products, be prepared for high expectations. With companies like Amazon setting the standard, today's customers have very little tolerance for mistakes. Delayed deliveries, damaged boxes, and wrong orders will quickly lead to angry phone calls, negative online reviews, and more.
Delivery mistakes can have a negative impact on your business as a whole, so be prepared to execute to perfection before you launch your service. If you're worried about whether or not employees can do it accurately, consider heading up deliveries yourself.
#5 Update Your Business Insurance
Don't forget to talk to your business insurance provider. You will want to make sure that your business insurance covers employees, vehicles, and inventory that has been sent off-premise. Don't get caught without coverage, as a liability claim can be devastating.
Launching a delivery service for your business can expand your reach, but it takes research and investment to get it right.