Scania Irizar PBs for Premiere Travel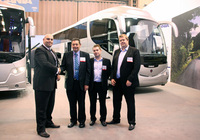 Nottingham-based Premiere Travel Limited has signed an agreement on the Scania stand at Euro Bus Expo for three limited edition 49-seat Scania Irizar Sesenta luxury touring coaches. One of the vehicles will be delivered towards the end of this month, with two following in February 2011.
"These will be the first Scania coaches we have purchased," says Premiere Travel Limited Managing Director Stephen Greaves. "We already operate Scania buses and have chosen Scania as additions to our coach fleet for their quality, workmanship and the peace of mind the brand brings. The other prime reason for selecting Scania is the service support provided by their dealer network, both at home and abroad."
Based on 12.2-metre Scania K 400EB 4x2 chassis with Scania's 400 horsepower Euro 5 engine, the new vehicles will be equipped with the two pedal version of Scania's automated gear-selection system, Scania Opticruise.
Formed eight years ago, Premiere Travel Limited currently operates eight coaches and a fleet of 70 buses and provides a broad spectrum of services. The three new Scania Irizar PB Sesentas will be operating on the company's range of holidays, day tours and corporate operations.